Seminar with Kenji Ushiro Sensei 
---
Overseas Seminar with Kenji Ushiro Sensei,
9th Dan, Hanshi of Soshinkan Ushiro Karetedo

Kenji Ushiro Sensei teaches a style of Okinawan Karate, Ushiro Karate. His teacher, Nikichi Zaha, was a direct student of Choshin Chibana, a pivotal figure in the development of modern Okinawan Karate. Ushiro Sensei is a 9th dan Hanshi of Soshinkan Ushiro Karetedo and 7th dan Kyoshi of Iaido, All-Japan Kendo Federation.Ushiro Sensei's mastery of ki, as expressed through his karate, is at a level rarely seen in the world of martial arts. He is a highly sought-after instructor in Japan and author of several books on martial arts. His second book, Karate and Ki, has recently been released in an English version (reading this book before the seminar is strongly recommended).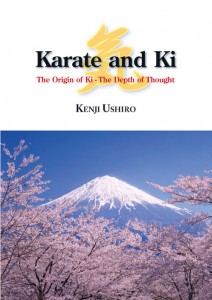 Karate and Ki The Origin of Ki — The Depth of Thought
What is "Ki"? How you can make it yours?  ―― It is in "the depth of thought." Ushiro Shihan has been teaching and coaching a great number of people all over the world using his original method of "Ki" that maximizes our potential ability. "Karate and Ki" is a milestone of life, many readers say.
[Shopping cart]
■Upcoming overseas seminars of Ushiro Kenji Sensei
Ushiro Sensei has seminars in U.S.A and in Germany every year. These seminars are rare opportunities for any style of martial artist to work on increasing the ability to generate and use internal power in the execution of an art. Registration for those events are mandatory and training spaces for those events are expected to fill-up quickly.
Napa CA Seminar 2017
Date : Saturday,April 22th & Sunday,23th 2017
Training Schedule : Both days/9:00am – Noon / 2:30-4:30pm
Location : Napa California
Costs : $250 / One day : $150 (Paypal or Check)
A list of local hotels is available by e-mail request

Berlin Germany Seminar 2017
Date : Saturday,June 24th & Sunday,25th 2017
Training schedule :
9:30 AM – 5:30 PM (Saturday, the 25th)
9:00 AM – 4:30 PM (Sunday. the 26th)
Location : Berlin Germany
Costs : $250 / One day:$150

Seattle WA Seminar 2017
Date : Saturday,September 9th & Sunday,10th 2017
Training Schedule : Both days/9:00am – Noon / 2:30-4:30pm
Location : Advantage Basketball Training Academy, 14445 NE Juanita Drive,
Kenmore, Washington 98028
Costs : $250 / One day:$150 (Paypal or Check)
A list of local hotels is available by e-mail request

---